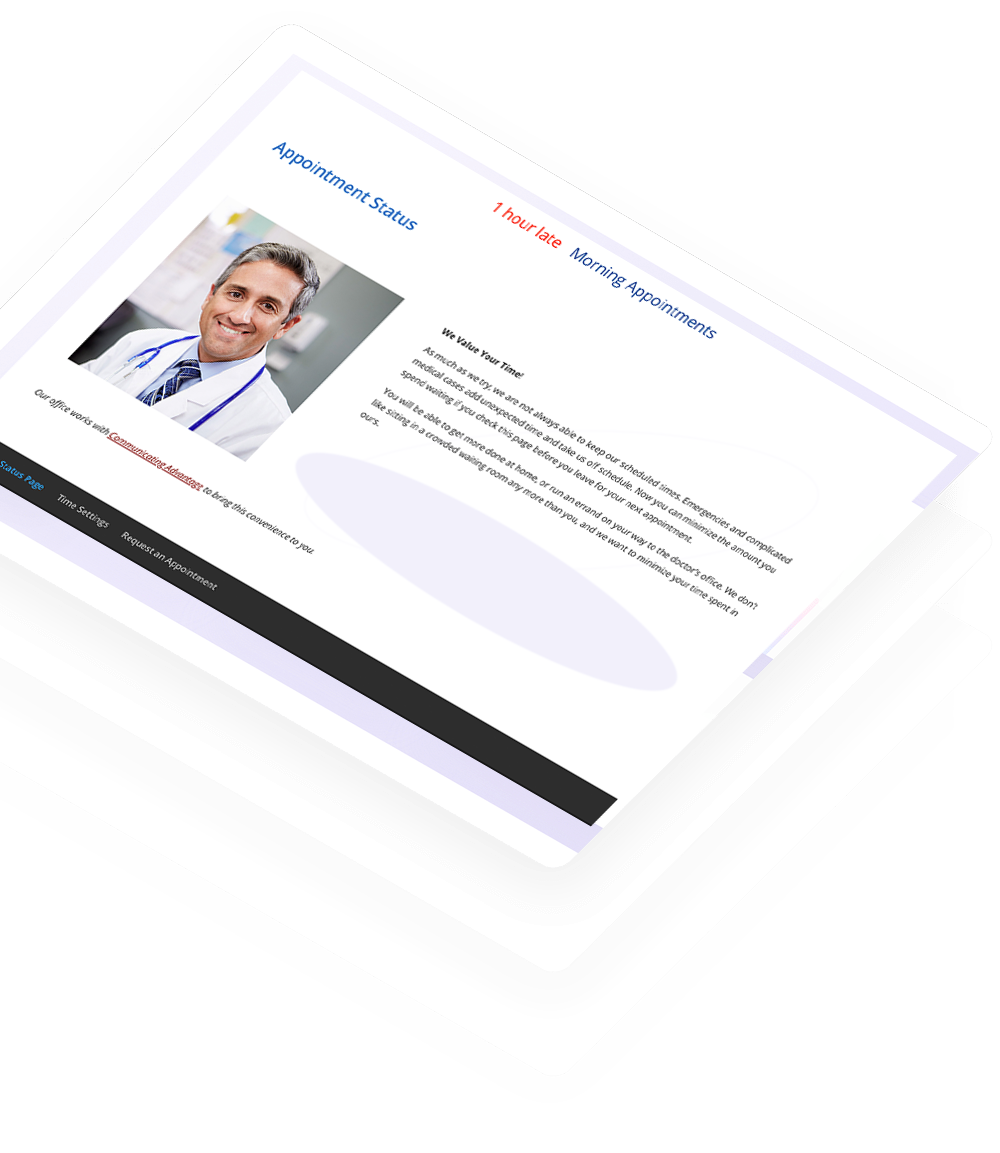 NOTIFY YOUR PATIENTS IF YOU ARE RUNNING LATE
Doctor on
Time
Benefits Doctors and Patients!
Doctor on Time®
Running late may be unavoidable, but informing your patients is not.
Our unique Doctor on Time® feature allows patients to minimize wait times in your office by checking your webpage. This courteous service can be added to your website. It posts your appointment time status online in real time. Changing your status takes seconds and can be set from a smartphone, tablet or computer. It is perfect for any profession that schedules appointments and wants to notify patients or clients when running behind schedule.
Email us for credentials to setup a demonstration of this feature.
Doctor on Time Feature
There are two subscription options: either a Doctor on Time web page or a professional physician website.
Single Web Page - $49/month!
Want this function? We will add the Doctor on Time feature on your website.
Change status Interface
Doctor on Time was developed to address long patient wait times for a physician in New Jersey. His exasperated daughter, who waited two and three hours for routine obstetrician office visits, challenged him to find a way to alert patients to longer wait times so they could arrive later.
Pro Website - $149/month
We design or redesign your website, providing functions and pages that meet your needs.
Patient Access
Patients simply access your doctor bio web page to view the appointment status. We provide signs for your office to promote Doctor on Time, and patients can be advised to check your web page for appointment delays when reminder calls are made.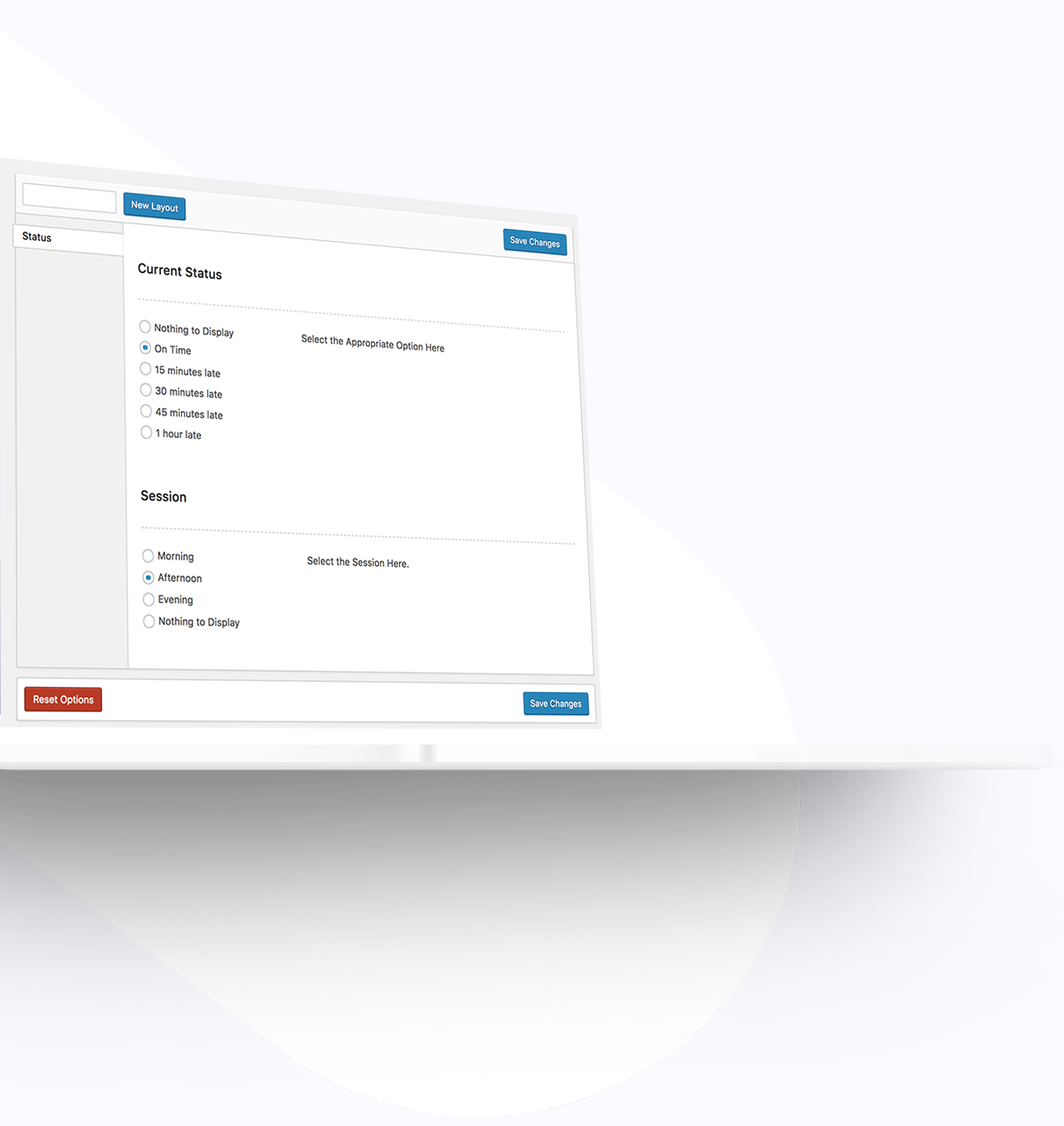 Simple & Easy
Changing Your Status Takes Only Seconds
Select buttons on your Internet-connected smartphone, tablet or computer. It can be done while going from one exam room to another, and does not have to involve the office staff. The doctor selects radio buttons to display the status for morning, after-noon or evening appointments, with customizable time options: On time; 15 minutes late; 30 minutes late; 45 minutes late; or 60 minutes late. Patients simply access the doctor's web page to view the appointment status.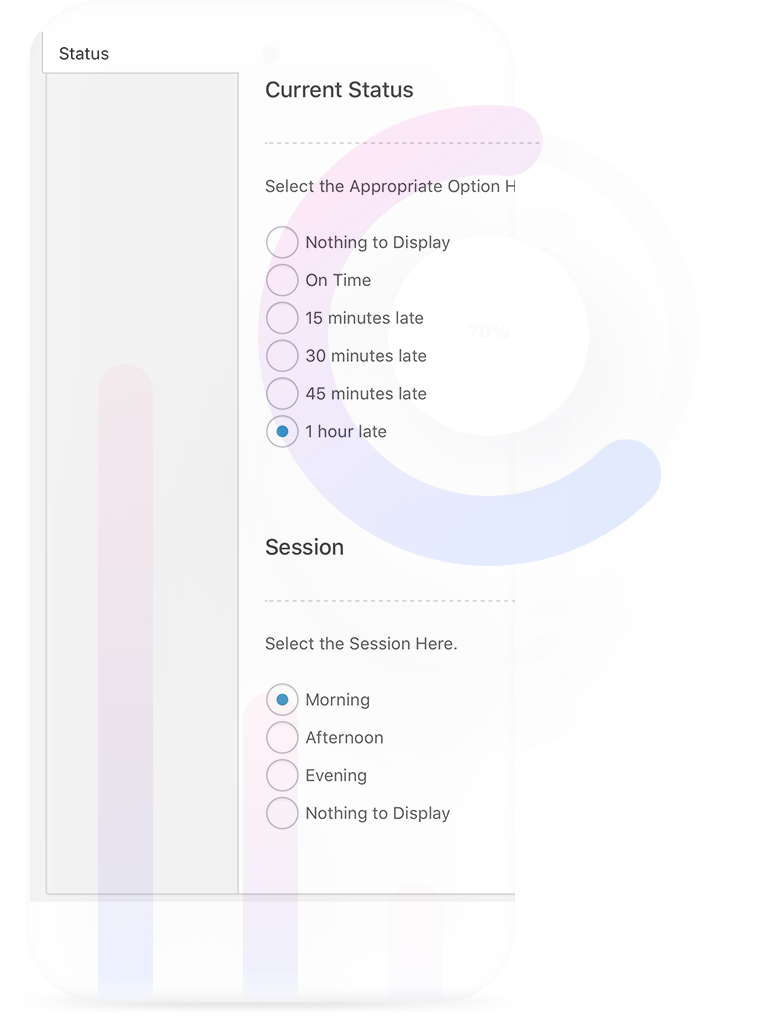 Mobile Friendly
Access…
Fits In Your Pocket!
Doctor on Time was developed by Communicating Advantage. We applied digital design innovations to the web since 1995.  For over two decades we have turned clients' text, photos and graphics into attractive, professional, and functional websites. We applied the latest web technologies to meet the challenge, and after witnessing and researching the benefits, offer this function to other healthcare professionals. You will receive all the services you need including hosting, and guidance through the process.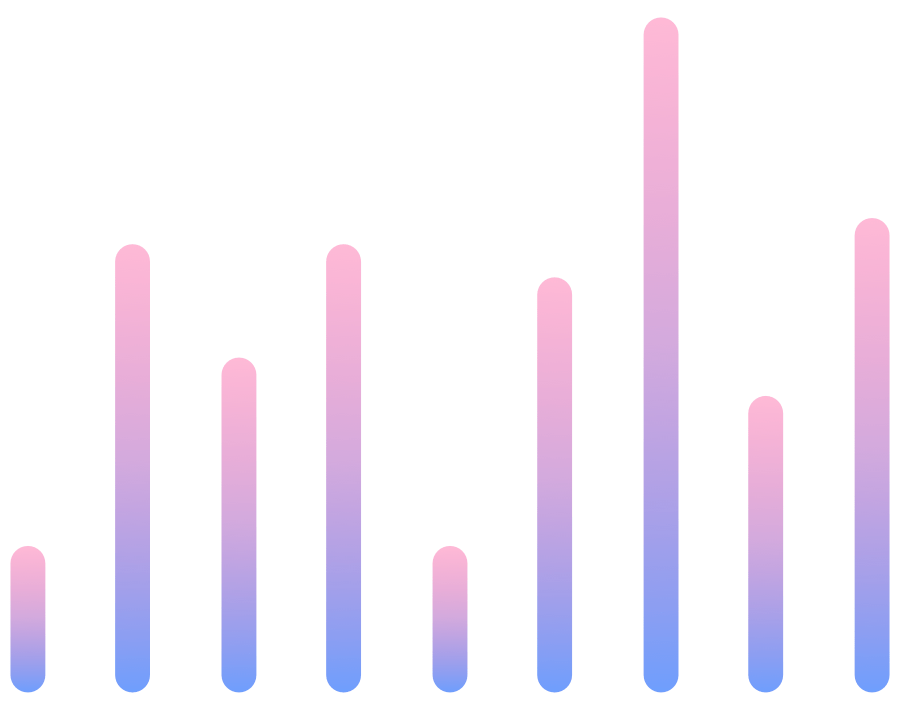 Research Supported Results.
Quality of care improves when you don't feel the the time pressure created by a crowded waiting room.
Based on data from Athenahealth, Inc., Hannah Neprash's research at Harvard reveals that "…when primary care physicians fall behind schedule, they truncate appointment duration, perform fewer in-office procedures, and record fewer diagnoses. The likelihood of a patient revisiting the primary care practice within two weeks significantly increases as a function of delayed appointment start time. In particular, physicians who run behind schedule increase antibiotic and opioid painkiller prescribing and increase referrals of a new patient to a specialist. For patients with preexisting prescription drug regimens, physicians running behind schedule are less likely to change the existing course of treatment. These findings suggest possible unintended consequences of the increasing time pressures placed on physicians by policymakers and private payers. Implications may include higher health care spending and lower quality care."
Research Supported Results.
Generates better online reviews.
Patient wait times show notable impact on satisfaction scores. Do a google search on doctors near me and read those with low scores. Likely you will find comments about long wait times.  "When patients aren't languishing in a doctor's waiting room, it's good news not just for health consumers but for the doctors themselves, who receive better patient satisfaction scores the less their patients wait, according to a new study by healthcare consumer engagement group Vitals. It found a strong correlation between wait times and doctors' star ratings. Doctors with 5-star ratings have shorter wait times."
https://www.healthcarefinancenews.com/news/patient-wait-times-show-notable-impact-satisfaction-scores-vitals-study-shows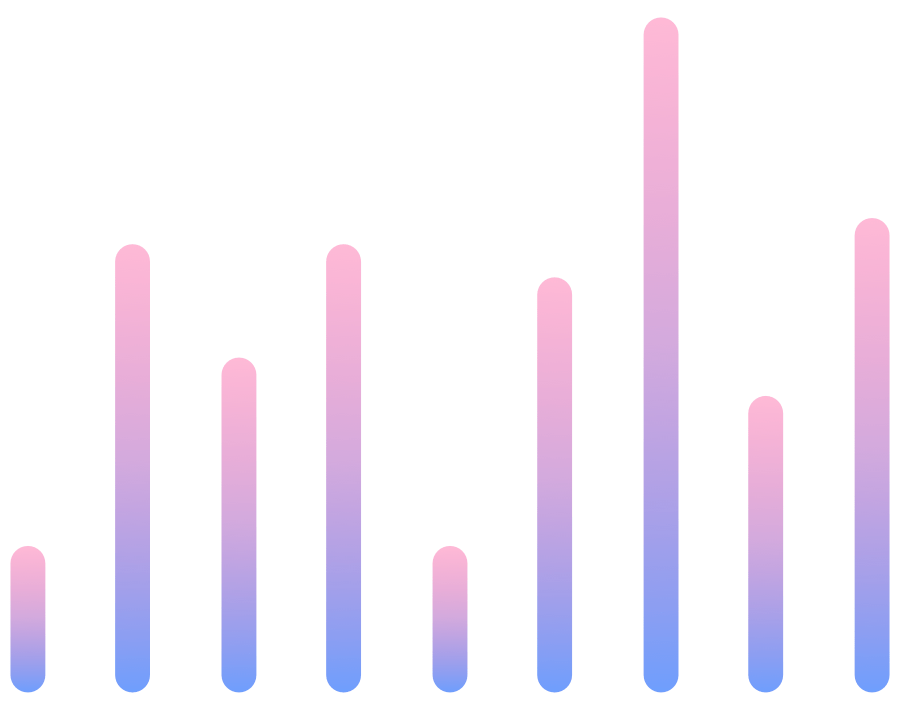 More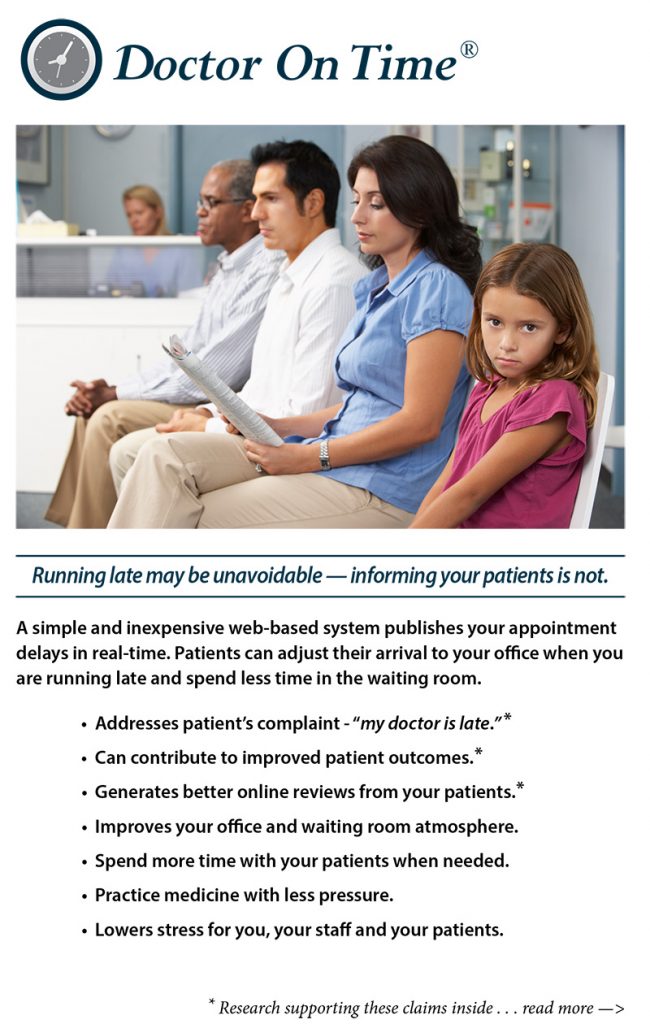 Download a pdf.
Pro
Website
Standard Package pages that come with your website:
Doctor Biography
Downloadable Patient & Office Forms
Location Map
Contact Form
Appointment Request Form
Patient Resources
Insurance Coverage Page
$

149

/mo
Web Page
If you have a website, but want to provide your patients with this function. We will create a web-page with the Doctor on Time™ feature and provide signs for your office to promote it to your patients. Patients can also be advised to check your web page for appointment delays when reminder calls are made.
$

49

/mo
Establishing your presence on the web involves many steps including: registering a domain name, selecting a data center (server for hosting), and installing software, organizing text and images or graphics and then designing an attractive layout.
Designing a professional website with a positive first impression involves using color schemes, fonts, photo images, and graphic files. Creating a functional site requires logical organization of information and links to resources valuable to your patients.
We create the initial layout to make your text and graphics look great, and we can keep your website updated for you. But if you desire to make edits yourself, your website will be editable without extensive coding knowledge.
Preventing downtime or malicious attacks requires vigilance. We provide your website with an added level of security and regular maintenance. Security of the server is a priority and software is updated. In the event that your website is hacked, it can be restored because backups are stored off-site.
We are happy to setup an online demo?
Want more information?